Swing dresses are vintage dresses from the fifties. Why are they called swing dresses? I notice the word swing and immediately think of a dance dress. A dress with wide skirt which blows up if you turn around. I finally discovered that the "swing" was the name of a dance. The name says it all. A swinging dance. Swing dresses must have a wide skirt, otherwise you can't dance in it. If you don't have any dancing plans, you will definitely like the pencil dress.
Battle of music in the thirties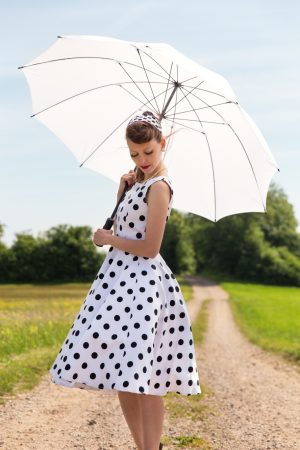 Swing and jazz are like Jazz and a Big Band (a band that consists of more than 10 people with lots of wind instruments and at least one saxophone). Historically, it's rather strange, as the swing dress comes from the fifties, although big bands were extremely popular in the thirties and forties. In those days big bands were popular and Duke Ellington and Etta James took care of the musical accompaniment. Anyone who thinks the fifties were pretty frumpy, as rock and roll and the Beatles didn't exist yet, is wrong. Jazz music is characterized by improvisations. It regularly resulted into battles between saxophonists or even entire big bands. I am talking about battles in the thirties, which can't be compared to modern battles causes by the Pokemon mania:).
Jazz, boogie-woogie and swing dresses
If you take a look at the vintage photos from the fifties, all ladies look extremely decent, just like the men. I always believe modern women have a much better time and much more fun than women in the past used to have. But when I take a closer look at the music and vintage clothing, I doubt about it. The fifties were characterized by lots of dance music and jazz which can't be compared with the lounge room-like sound you might hear on a lazy sunny afternoon. Quit jazz music by Frank Sinatra or Bing Cosby is fine if you are drinking a Pina Colada in your bathing suit or bikini, of during meditation, but there is nothing better than the swinging jazz you used to enjoy when dancing the energetic jitterbug or boogie-woogie. If you ain't got that swing……
Rebellious swing dresses
The swing dress is a typical dress from the fifties, which doesn't reflect its rebellious past. Since you are aware of it now, you will understand why these swing dresses are so popular. It's the rebel among vintage clothing. No frills, bows, buttons like the dresses from the twenties and thirties but, straight, classic, stylish, timeless. Designed for one reason only: Having a great time on the dance floor. Great for the North Sea Jazz festival.
Swing dresses popular thanks to Audrey Hepburn
If you think of Audrey Hepburn, you will think of swing dresses. Straight sleeves, straight boat neck and wide skirt. If you can't imagine it, check this. The most beautiful summer dress of 2017, according to me! The epitome of simplicity and, for this reason, so fantastic. Simple, easy co combine with a vest, bolero or cardigan. And sneakers of course, as high heels won't allow you to jive!