This summer you can attract attention in your vintage bikini. After all, a vintage bikini offers a couple of advantages compared to an ordinary bikini. Modern bikini tends to become smaller and smaller, unlike a vintage bikini. Vintage bikinis are tight and their top allows you to jump off the springboard safely with cup C or more. Perfect for women who have been pregnant several times and don't have the belly they used to have anymore.
Solid material, perfect fit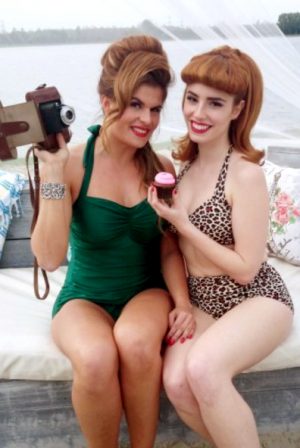 Vintage bikinis have a nice, perfect fit and special details, such as a belt or a contrasting colour. Smocked parts are typically fifties. They hide less beautiful parts of your body.
The vintage bikini is not common or nude, always supports yet is a bit naughty at the same time. After all, in the fifties we were much more prudish than nowadays. Bikini bottoms had legs and at least reached your navel. The same goes for tops, no trashy material, but solid cups to avoid your nipples can be seen or even worse, losing your bikini top when diving.
Striking vintage bikini
Of course you will catch the eye when wearing a funny checkered bikini from the fifties or a floral bathing suit with solid cups à la Madonna. However, there are more prints which make you happy. I will mention a few I noticed which are too good to be true.
The best vintage bikinis listed
A bikini with the American flag, making you look like a true pin-up girl (and perhaps you can steal the heart of a rich American passing through)
A sailor look bikini with high bikini top and prints which look like the buttons of the navy with dotted top (the top perfectly matches with a long skirt when going on a holiday)
Blue halter bikini with white polka dots and red bow in the neck, rose bow on the bra and red contrasting belt on high bikini bottom (pretty nice if you wear a bow in your hair and combine it with matching sandals).
Lace bikini, with laces on both bottom and top connecting front and back.
Black vintage bikini, with white stripes on the bikini bottom and polka dots on the top or vice versa. Stylish, funny and especially naughty.
Lace bikini, with laces on both bottom and top connecting front and back.
The assets of a vintage bikini:
1. Striking prints like flowers, stripes or polka dots
2. Stylish black for bathing suits from the fifties, slimming bikini's
3. Smocked top to hide pregnancy belly
4. Covering and supporting, you don't have to be afraid to get out of the water when you jump off the springboard
5. Push-up or shaping effect thanks to solid, elastic materials
6. Halter bikini, creating less stripes (you can easily loosen your bikini if you want to go sunbathing)
In short, if you want to catch the eye in your bikini, choose a vintage bikini or bathing suit. Combine it with retro glasses, retro haircut and wear sandals with heels. A straw hat in matching colours and ditto beach bag will complete your beach look!