An A-line dress" is a dress with a flared bottom. A dress, how it's meant to be, according to me. Such a fluttering dress allows a lot of space to move and is a solution for heavy upper legs, wide hips and an incipient paunch. After all, such imperfections are invisible!

On the contrary, the "A-line dresses" with fitted top and flared bottom optically create a slim waist or hide your (lack of) waist. Somehow, most dresses have an A-line, except for the flapper dress, which is straightforward and the pencil dress and tube skirt, which are slim-fitting skirts with a straight, narrow cut. Definitely not an A-line dress.
A-line dresses are not available at the tents department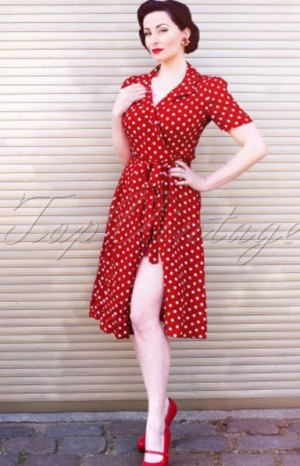 Make sure you won't look like a tent. After all, if you hide your female forms, you will look thicker and more slovenly. We aren't all miss Twiggy. Most women look more like Billy Turf than Betty Boop, but that's a different story. By the way, an interesting item the magazine "Viva" pays attention to this week.
You can be healthy and fit with size 44 or more. Being skinny doesn't necessarily mean you are healthy and fit. It might be a sign of illness and weakness so enjoy your body and pick a nice dress! Don't pay too much attention to style advices and the do's and don'ts, as there is only thing that matters: Feeling good in your dress and loving your mirror image. If the dress feels good but you don't like the mirror image, below tips might help you.
A-line dresses, what should you pay attention to?
A fluttering dress makes your legs look shorter, so pay attention to dress length compared to your own length. If you have relatively short legs, you'd better pick a slim-fitting, above the knee dress. If you have heavy legs, you'd better pick an ordinary flattering dress, without emphasis on waist, making you look slimmer.
If you really prefer the A-line dress, but your legs are too short and the dress is too long, you might consider to shorten the dress yourself or wear a pair of high heels. Not good for your posture, extremely bad for your back, but perfect for your silhouette. Whatever it takes to look great!
A-line dresses are characterized by a fitted top and a flared bottom. Perfect for the full, female figure. Dresses with shoulder pads from the seventies are not considered as A-line dresses.