What do Lien and Giel, King Louie and Betty Page have in common? Right, a great liking for retro dresses. Although the term retro dresses sound extremely sweet, retro dress lovers aren't that sweet at all. For example, Betty Page used to be one of the first pin-ups with gothic traits. Pretty obscure at the same time.
I will try to find out why women like to wear retro dresses. And believe me, even good housewives can become true vamps when they dress themselves in floral dresses from the fifties:).
Attracting attention in retro dresses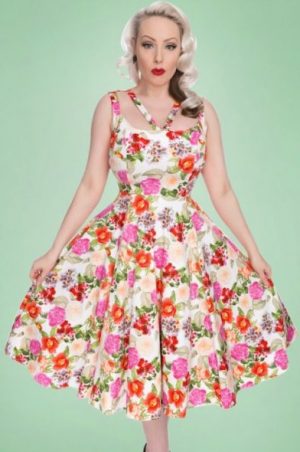 Of course many young women love the retro style. Retro dresses attract the eye, like no other and when you are young, you want to develop your own style. They like to try on dresses from the old days. For some reason heroines from those days still attract young women.
Think of Marilyn Monroe, Sophia Loren and Brigitte Bardot. Young women want to be sexy and when you take a look at the history you will automatically find these ladies. And of course you will feel the need to look like them. Make-up, hair style, clothes are totally different than today.
Longing for romance
The need to dress yourself like a star from the fifties is filled with a touch of romance as well. The heroines of the big screen are mainly known as breathless panting, helpless creatures who are saved by cool, tough and especially handsome guys. Although we love emancipation and are perfectly able to take care of ourselves, we love to play the helpless woman. And if you are wearing stiletto heels and a tight skirt and suddenly loose a package, you don't have to bend of course, there is always someone willing to help you.
Self-esteem by retro dresses
Wearing retro dresses makes you feel like you belong to the rich and famous. If you can dress yourself like the stars on the big screen, you will feel start to feel like them. A very good reason to put on a nice dress from the fifties.
You will immediately feel just as feminine, famous and beloved like them. Believe me, it will boost your humour! Men who hold the door open for you, shop personnel who treat you respectfully. Try it yourself: Go shopping in a tiger print skirt wearing golden jewellery and bracelets, Armani sunglasses and high pumps. Perhaps you can even borrow a Chi hua hua. I bet some losers will ask for your autograph!
Retro dresses for naughty girls
Of course some retro dresses are perfectly suitable to get rid of your good girl image. Nice for a bachelor party! A beautiful pin-up dress or a tight skirt with buttons and split, or rather something from the fifties with sailor look is extremely suitable. If you don't have a tattoo you can temporarily place a fake one. Don't forget to wear a pair of pumps with platform soles (avoiding painless spots) and make sure you have a candy floss hairstyle, a beauty spot at the corner of your mouth and smokey eyes.