Retro bathing suits from the fifties create a tough image, whether you are 20 or 60. Some girls hate the beach as they don't like to be examined by adolescents half-naked. However, a vintage bathing suit from the fifties gives you a tough and cool image. In my mind I see two girlfriends, with butterfly sunglasses and scarf around their head walking on the beach, arm in arm, wearing a knotted blouse over the bathing suit to avoid curious looks and to protect them from the sun. I see long bare legs and sandals with thin straps. I see cheerful, bright yellow colours and floral Banderas, red lips and a firm step. Extremely, self-confident girls pimply adolescents can only dream of.
Retro bathing suits from the fifties for bitches of all ages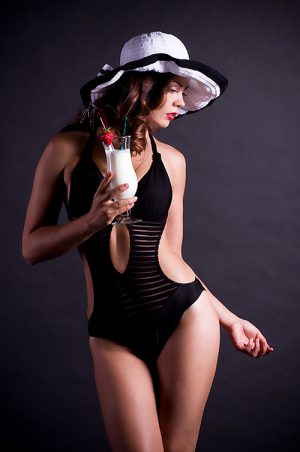 Of course they are bitches, seen through their eyes. Young or old, women who are beautiful and attractive, yet out of reach for them. But who is to blame for it? Perhaps the adolescents, those who are 40 years as well, first have to start working on their own self-improvement before they can start examining female beauty. After all, women aren't that unreachable as men might think. They shouldn't however believe we make ourselves beautiful for them, although we secretly do.
Stiff bathing suits or sexy bikini?
Back to the summery vintage bathing suits from the fifties, which can't actually be compared with current scanty pieces of clothing, whether you call them bikini's, or tankini's, modern bathing suits don't really catch the eye. Times are changing and as Holland gets older (I mean there are relatively more elderly people, in good health) the need for good, corrective clothing increases. Of course a bathing suit can be sexy and a bikini bottom doesn't necessarily have to be a stamp to be beautiful. After all, men claim it's definitely much more exciting if women don't reveal everything!
Training and shaping
By the way, I don't want to insinuate you should correct your body when it is getting older. However, it is a true that both skin and muscles become weaker and, to be honest, it is much more pleasant if your bathing suit is slimming. Vintage bathing suits from the fifties can deal with rolls of fat and love handles. In those days physical exercise wasn't new. On the contrary, women have been doing exercises to keep belly, buttocks, breasts in shape for ages now. Unlike men, women get curves by the time they grow to maturity. However, those curves tend to sag once you are in the change of life. It explains the physical exercise and the need for some kind of support such as built-in cups and solid stretch zones.
In shape thanks to retro bathing suits from the fifties
Of course your own muscles are the best shapewear. No wonder gyms are full every spring. It's a pity we forget that same gym again as soon as the first summer days arrive. I managed to go to the gym during one warm summer week, but when the gym failed to switch on the airco twice while doing my cardio training, I didn't feel like going anymore. So, I rather go to the beach, not quite in shape, not having a beach-proof body yet. Thanks to a beautiful, tight, slimming vintage bathing suit nobody will notice it.