I am lucky to have a picture with a bathing suit from the fifties, together with my mother. Besides, I have many memories of the beach as we used to go to the beach every weekend.
Bathing suit from the fifties with flowers
I remember two outfits. One on that picture with my mother and my brother sitting on the beach. On the background you notice my father in a large, dark, baggy swimsuit. My mother's bikini is tight, slimming. It's halter bikini with flowers. I am not sure about the colour as it's a black-and-white photo. It must have been 1960, as both me and my sister are not on the picture :-). I suppose my aunt took the picture.
Preformed plastic cups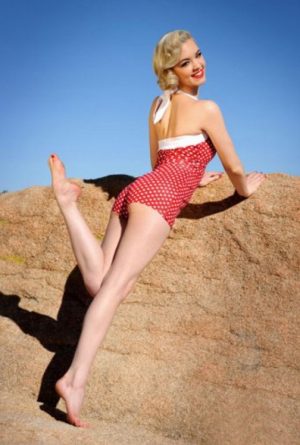 My aunt and my mother already loved shopping long before my mother met my father. They had a close relationship and even shared each other's bathing suit. I suppose this bikini is not my mother's but my aunt's, as I have never seen it on pictures again anymore. The other bathing suit dates from the period I was a toddler. I especially remember how it looked from the INSIDE. My mother had cup C, at that time pretty large, and her cups needed support. In those days these cups consisted of Madonna-like pointed rounds made of white plastic. When I saw them floating in a bucket of water, they reminded me of the sieves I played with on the beach. I couldn't imagine they were comfortable, although I didn't have breasts myself yet.
Bathing suit from the fifties heavy cotton
Nowadays, if you purchase a bathing suit from the fifties, you won't find any plastic cups. Most retro bathing suits are characterized by that typical model, but are made of modern materials, fortunately. After all, the bathing suits from those days were usually made of cotton, which slowly dries. My mother regularly complained about stomach-ache because her wet bathing suit cooled off her body too much. You'd better check it before you buy such a streamlined bathing suit. Modern stretch materials usually have built-in zones with more and less elastic, making your bathing suit function like shapewear.
Halter or strapless bathing suit
A bathing suit from the fifties usually has a halter closure, meaning a bow or neck closure. For this reason you can for example perfectly wear it under a cocktail dress with bare back. If you have a strapless dress you can combine it with a ditto bathing suit, if you want to. You can also wear a long, sleeveless blouse over your bathing suit if you want to enjoy a terrace and still look well-dressed. You should buy a pair of flip-flops as well, available in both vintage shops and traditional dress- and shoe shops, in unicolour or with flower or print. Still that beach look, yet protection against dirt and glass. Pretty cool for men as well, by the way!