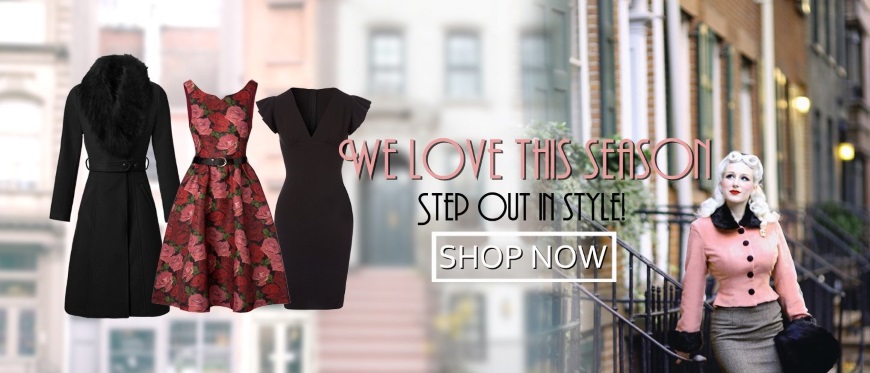 OUR NEWEST VINTAGE CLOTHING & RETRO FASHION
---
Vintage Clothing at Vintagechick.net
Are you looking for your own style but you don't know exactly yet what suits you best? Check Vintagechick.net and you will probably discover that vintage clothing matches your personality! Retro dresses look good on anyone: thin, thick, tall or short! Every girl or lady will look great in vintage clothing, so take a good look!
After all, Vintagechick.net doesn't only offer vintage dresses, but lots of inspiration for your own retro look as well. Even if you don't like dresses you will definitely find something at Vintagechick.net. Besides retro dresses, skirts and blouses, we also offer bathing suits and all kinds of accessories to complete your look.
Vintage clothing in all sizes with matching accessories
We, Vintagechick.net, have done our utmost to offer you lots of inspiration for your own retro look. Do you often wish you were born in another century? When romance was rampant? In that case, Vintagechick.net definitely offers wonderful things for you, such as a nice dotted dress or a funny hair bow or sugary boxes with roses and lovely lip balm to prepare yourself for your first (or second) kiss.
Shoes, jewellery, stockings, purses which match with your vintage clothing
Of course your dress draws the most attraction, but you definitely have to wear matching items such as pumps or seam stockings. After all, a dress is like a bowl of plain yoghurt. If you add a couple of delicious things you will get a lovely retro dessert, even if you leave out the yoghurt. You might also pick a pair of tights, which look like real stockings, inclusive of suspender. The comfort of modern tights and the look of a vintage lady from the fifties.
Besides we offer wonderful vintage purses, umbrellas and even vintage phone covers for your IPhone. Ok, you are a vintage lady, but what would you be without your IPhone?
Whats the point of being somewhere if nobody knows you are there?
So, put that amazing IPhone in a nice, flowered retro cover and suddenly it matches with your vintage look. We hope that you, just like us, will get inspired by our wonderful vintage collection!
In case you miss something, please inform us as soon as possible. If you wish to share things with us, please feel free to do so. For example, you can write a blog! We hope to hear or read from you soon! Enjoy shopping at Vintagechick.net.